SitePortal® Cell Site Monitoring
SitePortal® provides the most advanced remote site monitoring software available for cell site projects of varying complexity and scope.
Currently deployed across more than 1,600 remote cell sites, SitePortal®'s innovative cell site monitoring capabilities help minimize network downtime through remote fixes.   SitePortal® also helps reduce operating costs by providing detailed troubleshooting information when on-site repairs are necessary.
Devices
Remote cell sites require a variety of supporting systems and complex devices to ensure the network continues to perform at its best.  Without properly monitoring these deployed devices, indication of problems may not arise until it is too late.  This results in costly downtime and unhappy end-users. SitePortal® provides a proactive approach to monitoring and provides visibility into these devices.  This enables troubleshooting to occur before a major problem occurs.  SitePortal® can monitor numerous cell site device types: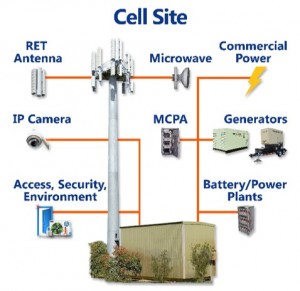 Access & security
Generators
HVAC
IP Cameras
Commercial power
Microwave
Batteries
Contact closures
Energy usage
Tower lights
RET antennas